---
Notre magasin principal
Our main shop
Notre magasin principal.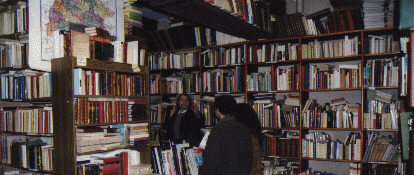 Our main shop.
La joie de la découverte.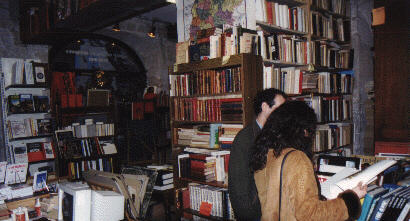 The pleasure of discovery.

Notre deuxième magasin, avec Mme Adjémian.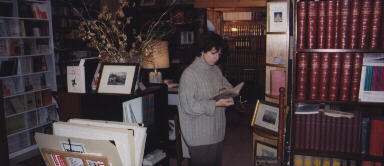 Our second shop with Mrs Adjémian.
Reliure / Bookbinding
Un nouveau projet à réaliser... Mme Adjémian réfléchit avant de commencer.
Remarquez à droite deux presses de relieur : une en bois, du début du siècle,
l'autre en acier, moderne et plus pratique.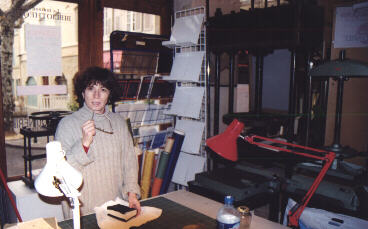 A new project to do... Mrs Adjémian is thinking about it before to start.
See on the right two bookbinder pressing machines : a wooden one (early XXth century),
and a steel one, modern and more convenient.
Deux étapes de reliure.



Two steps in bookbinding.
Éditions / Publishing house
Le webmestre Roland Pisano, responsable technique des éditions,
pas très satisfait de son travail (comme d'habitude).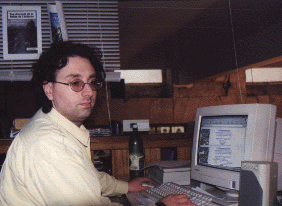 Roland Pisano, the webmaster, technical manager of our publishing house,
not very satisfied of his work (as always).
Livres anciens / Old books
Le spécialiste du livre ancien, M. Adjémian, à 3 m. du sol,
en train de vérifier les références d'un ouvrage.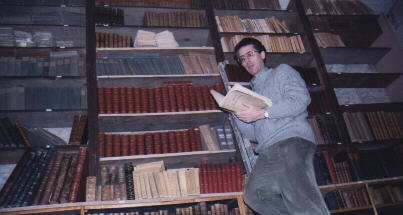 The specialist in old books, Mr Adjémian, on a ladder,
3 meters from the ground, to verify a book's references.
Voilà, c'est tout pour aujourd'hui !
End of the visit, that's all for today !
Retour / Back
---
© Edition & Régions, La Bouquinerie 1997-2014

La Bouquinerie -77 avenue des baumes 26000 Valence - France
Tel : ++33 (0) 6.88.08.35.96 - Mail : contact@labouquinerie.com
Sauf mention contraire, les images illustrant ce site sont protégées.
Dernière mise-à-jour : 2014. Last update : 2014.